10 Interview Questions Job Candidates Should Ask
Make an informed decision about your next job by asking these important questions.
By Kathy Gurchiek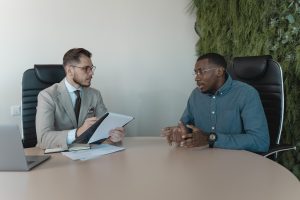 Preparing for a job interview can be nerve-wracking. First impressions are important, and how you respond to the interviewer's questions could land you that job or put your resume at the bottom of the stack of applications. But the interview session runs both ways: This also is an opportunity to evaluate the company and determine whether it's a good fit for you, your skills and your values. What you learn can help you make informed decisions and show that you have put some thought into preparing for this important meeting. And while some questions never go out of style—asking why the position is available, for example—others, such as those about work/life balance initiatives, are more reflective of the changing nature of work, according to Brie Weiler Reynolds, career development manager at Boulder, Colo.-based FlexJobs.
"Especially in the last several years, with major societal shifts and the pandemic impacting every facet of life," she said, "job seekers should be asking some new questions to make sure they're making the best professional decisions for themselves."
Here are some questions FlexJobs suggests asking during your job interview:
1. Why is this position available?
The answer will tell you whether the previous person was promoted, made a lateral move within the company, was fired or quit. If this is a new position, it would be good to know the history behind its creation.
2. When was the last time someone in this position was promoted?
This answer can offer insight into career progression and the traits, skill sets and achievements considered most important for advancing at the organization. Follow up with asking why the person was promoted. "It's good to find out what led to that promotion." Reynolds said. "Was it strictly a tenure-based or seniority-based decision? Were there specific metrics used to determine when the promotion was due? Were goals or milestones met, certifications earned" or particular assignments undertaken that were seen as career movers?
Asking how long the person was in the position before being promoted also could be insightful. "There's a big difference in being promoted within a year versus being promoted after five years," Reynolds said. "It would be helpful to know that for more context."
3. What are some challenges I would face in this job?
The answer may leave you rethinking whether this position is appealing and if it poses the kinds of challenges you relish.
4. What would be considered a great day doing this job, and what would be considered a challenging day?
The answers can help you get a clearer picture of what the job entails.
5. How are criticism and feedback handled within my team?
The answer may tell you if critiques are done in a way to help employees grow and develop, and whether it is a work environment where you can thrive.
6. What is the main reason employees stay at or leave this company?
For some, this may take some courage to ask. However, the answer should provide a better sense of a company's culture, as well as average tenure. Part of what you're looking for is how open the interviewer is when answering your question, Reynolds explained.
"If you sense an interviewer is being vague or unable to answer this question, it's something to note," she said. "You then could do more research on a site like Glassdoor to discover why people leave the company and if there's anything concerning you should know."
7. How does this company approach work/life balance, and what are some recent initiatives it put into place since the pandemic began?
The answer will help you determine if the organization's idea of work/life balance matches yours.
8. Do you have any employee resource groups? If so, how do they support the company's diversity, equity and inclusion (DE&I) initiatives?
The answer could help you determine if the company's mission statement aligns with its actions, and whether your values align with those of the organization. Employees want organizations to do more than just say they value DE&I (www.shrm.org/resourcesandtools/hr-topics/behavioral-competencies/global-and-cultural-effectiveness/pages/action-is-operative-word-for-workplace-allyship.aspx).
According to a recent LinkedIn survey, among the 59 percent of employees actively looking for another job or considering doing so, 48 percent want to work for an organization that better meshes with their personal values (https://www.linkedin.com/pulse/job-seekersbet-fresh-start-59-now-consider-switching-george-anders/).
9. How are salary levels or ranges determined for remote workers, and is salary different for employees who work in the office or have hybrid schedules?
More employers are adopting "geographic pay" policies (www.shrm.org/resourcesandtools/hrtopics/
compensation/pages/remote-workers-expect-pay-to-reflect-their-locations.aspx), SHRM Online reported in April.
WorldatWork's Geographic Pay Policies Study (https://www.worldatwork.org/workspan/articles/remote-work-raises-geographic-pay-policy-questions) found that determining to base pay on where the employee works, rather than where the employer is located, has become a pressing issue for employers. Additionally, 67 percent of employees expect their compensation to reflect their location.
10. Do you have any hesitancy about hiring me?
This is another question that can take some courage to ask, especially for those new to the workforce. "As with all things in the job interview, we find that practice makes perfect," Reynolds said, adding that the job seeker may want to consider how to best word the question in a way that feels comfortable.
"Some people are comfortable with the more direct, 'Do you have any hesitancy in hiring me?' while others can get similarly helpful information with a less direct approach, like 'What would make you hesitant about hiring a person for this role?' " Reynolds noted. "Also, it's not necessary to ask all of these difficult questions," she added. "For those whose courage may falter under pressure—that's all of us sometimes—choosing one or two of these questions is more than enough to gain valuable insights" about an organization.
To view the original article posting, click here.