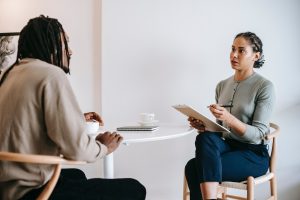 The recruiting trends panel at the SHRM Talent Conference & Expo 2023 in Orlando, Fla., explored the must-have practices and programs necessary to hire talent in a tight labor market, from using emerging technology and appealing to Generation Z to supporting hiring managers and shifting to skills-based hiring.
The popular annual discussion was moderated by Tony Lee, vice president of content for SHRM, on April 17. Here are 10 brief takeaways.
1. Adopt New Methods, Tools
HR must embrace new recruiting methods and technologies to fit the current era of hiring, such as using QR codes, text-based outreach and generative AI for job descriptions.
"We are figuring out where our candidates are and then meeting them there," said Rose Ann Garza, SHRM-SCP, chief human resources officer for Kerbey Lane Cafe in Austin, Texas.
"I encourage you to consider who your best candidates are and find out how they look for jobs," Garza said. "We've moved to QR application codes to make it significantly easier to apply for a job. We use text-based interview scheduling, programmatic job advertising, and are placing ads on TikTok and Instagram."
2. Attract Generation Z
"There are now five generations in the workplace," said Chelsea C. Williams, founder and CEO of Reimagine Talent Co. in Atlanta. "We are not going to create a whole new strategy to focus solely on one generation, but [Generation Z] will be 30 percent of the workforce soon, and they have different values than what we have seen before."
Williams recommended employers set up focus groups with their Generation Z talent, asking them how they had perceived the organization as an employer before they accepted the job and what they think since they became employees.
"That is important because Gen Z will share all their experiences with one another—the good and the bad," she said. She also recommended performing a companywide audit on policies and practices, with a focus on benefits.
"Some benefits may lean to older generations and some may lean younger," Williams said. "We are seeing a shift in what emerging talent wants from an employer and what they value about their work. We are certainly seeing an emphasis on social impact from Generation Z. And there is still a focus on diversity. Be prepared for those types of questions when interviewing Gen Z candidates."
Heather Deyrieux, SHRM-SCP, human resources manager for the Sarasota County Government in southwestern Florida, said that what younger talent wants may not be something employers have thought about.
"I was just at a local high school speaking about the range of benefits we offer," she said. "We offer tuition reimbursement, which normally generates some excitement, but the kids went wild for cellphone stipends. It's part of our sales pitch now."
3. Tell a Compelling Story
Deyrieux said that everyone has a unique story, and employers should take that mentality and apply it to jobs as well. "You are hiring unique individuals, and they are looking for something different," she said. "I love what I do, and we want to make sure all our employees feel that way, so we have to put together the content and video that speaks to them so they think, Wow, that looks like an exciting opportunity where I can make an impact."
Williams said that compelling employer brand content should focus on workplace culture and career paths—opportunities that are very important to job seekers.
Lee offered a practical tip. "Some companies think they have to hire a professional crew and produce expensive-looking videos," he said. "Those are not the effective videos. The ones that work are when you ask a loyal, engaged employee to shoot a video on their cellphone, asking their colleagues why their employer is a great place to work."
4. Reconsider Compensation and Benefits
When your competitors are paying more and offering more perks than ever before, it's time to focus on authenticity and transparency.
Kerbey Lane Café is competing with much larger, well-known companies moving into central Texas. "We can't beat those companies on compensation," Garza said. "So we think about what makes us better, what we lack and what we can add. Ask your employees these questions and try to meet them with their needs."
For example, Kerbey Lane created a mentorship program that is so popular, it has a waiting list, she said. "If you don't invest in your people, they will feel like you don't value them," she added.
5. Support Your Hiring Managers
Hiring managers and recruiters often have a fraught relationship, but it doesn't have to be that way. "One idea is to create a resource library, or roundtable training with hiring managers," Williams said. "It's so important to have a central place where managers can go and browse resources. And if you have great hiring managers with strong skill sets, you want to make those individuals ambassadors. Try to replicate what they do for newer managers."
6. Re-evaluate Education and Experience Criteria
Deyrieux said that her team has been challenging hiring managers to deeply consider the minimum qualifications for every job description before posting a new job ad.
"Not only is there a supply and demand gap between available workers with a college degree and open roles, but are these qualifications truly needed to do the role?" she said. "The applicable candidate should be able to do X, Y and Z, not be judged on having a four-year degree or five years' experience doing something. What matters is, can you do the job, or can you be taught to do the job?"
Kerbey Lane Café does not require high school diplomas. "They are not necessary to work in a restaurant," Garza said. "It is more important that you want to be there, that you are friendly, are great at communicating and provide a welcoming environment."
7. Seek Partners to Advance Diversity Recruiting
The panel recommended employers find partners such as schools, nonprofits and professional associations to support the hiring of underrepresented populations.
"Partnerships take time, resources and investment to work," Williams said. "That requires really getting to know the nonprofit or the school to build an alliance with. It's not just saying, 'We are ready for the candidates, where are they?' You will need a budget for this."
Williams advised HR to spend some time thinking about which type of partnership would be ideal for the organization. "You may want to go to the well-known nonprofits or top schools, but they may not be the best partners for your organization, and that is OK," she said. "Ask your employees who may identify with underrepresented populations about the organizations which have impacted them the most. Avoid going to the places where everybody goes to recruit."
8. Tap Untapped Talent
Sarasota County worked with the Florida Department of Corrections to set up a system to recruit incarcerated people who are about to be released. "We have one candidate in process right now who will be released on May 1, and we're hoping to have him start with us on May 8," Deyrieux said to a round of applause.
She said that it took some time to set up the program, get hiring managers on board, answer questions and assuage concerns. But after going through an interview round with the candidate over Zoom from the prison, they decided to proceed. "Hopefully it is success No. 1 of many more to come," Deyrieux said.
The panel also advised seeking out veterans, military spouses and people with disabilities. "People with disabilities have gone on a roller coaster ride over the last few years," Lee said. "They were making progress gaining employment, then COVID hit and unemployment soared. Fortunately, it has come back down again because being able to work remotely has been beneficial to people with disabilities, and more people are getting hired."
9. Maximize Referrals
It's an oldie but a goodie: Empower all your employees to be recruiters. "We're a high-turnover organization, so we spread the referral bonus over three payouts—on day one, at 45 days and at 90 days," Garza said. "That keeps the new hires engaged, and we pair those moments with key training to help retain them."
Deyrieux said the county is moving ahead with a plan that includes a referral program and new hire sign-on bonus. "Both were highly requested from our departments," she said. "The new hire and the referrer get paid at the start of employment, at 90 days and at six months."
10. Build Alumni Networks and Hire Boomerangs
This practice starts with a shift in attitude among managers when someone is quitting. "The usual reaction is 'You can't quit. I need you. I can't believe you're doing this,' " Lee said.
He added that a much better response is to congratulate the person, make a counteroffer if possible and then say, "Once you get to your new job, and if it is not what you hoped it would be, we would like to have you back."
Garza said that when there is a new position to fill, Kerbey Lane encourages hiring managers to first seek out people who have left the company in good standing.
"We have five boomerangs who have come back in the last year," Deyrieux said. "People often leave for more money, but the grass isn't always greener. It could be a toxic work culture, poor work/life balance, a bad commute, and they reapply. We welcome them with open arms and invite them to bring others over who may want a new opportunity."
Lee added that another best practice is to build alumni networks. "Stay in touch with your former employees," he said. "Because of that connection, they are more likely to be interested when new opportunities come up."
To view the original article posting, click here.