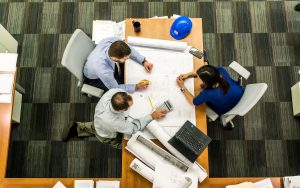 The U.S. Equal Employment Opportunity Commission (EEOC) recently released a draft of its new Strategic Enforcement Plan (SEP), outlining its priorities in tackling workplace discrimination over the next four years.
The playbook, published in the Federal Register in January, indicates that the agency will be on the lookout for discrimination caused by artificial intelligence (AI) tools.
"The EEOC is signaling in its draft SEP that it intends to enforce federal nondiscrimination laws equally, whether the discrimination takes place through traditional recruiting or through the use of modern and automated tools," said Andrew M. Gordon, an attorney with the law firm Hinshaw & Culbertson LLP in Fort Lauderdale, Fla.
According to the EEOC, technology that can result in discrimination may include:
Software that incorporates algorithmic decision-making or machine learning.
Automated recruitment, selection, or production and performance management tools.
Other existing or emerging technological tools used in employment decisions.
Over the last decade, AI use in the workplace has skyrocketed. Nearly 1 in 4 organizations uses AI to support HR-related activities, according to a 2022 survey by the Society for Human Resource Management (SHRM). Nearly 80 percent of these companies use AI for recruiting and hiring purposes.
AI software can more efficiently source, recruit, evaluate and communicate with job candidates. Employers have also leveraged these tools to support employees in learning, performance evaluation, benefits enrollment and more.
"However, [AI software] may run afoul of nondiscrimination laws if the systems—either intentionally or unintentionally—reject candidates based on protected characteristics like age or gender," Gordon said.
Cases of AI-Related Discrimination
In May 2022, the EEOC released guidance focused on preventing bias against applicants and employees with disabilities.
Employers should have a process in place to provide reasonable accommodations when using algorithmic decision-making tools, the guidance stated. Without proper safeguards, some groups of workers may be screened out from consideration for a job or promotion.
In 2022, the EEOC sued three integrated companies providing English-language tutoring services to students in China under the "iTutorGroup" brand, alleging that they programmed their online software to automatically reject more than 200 older applicants.
The lawsuit came four years after tech giant Amazon ditched an AI recruiting tool upon discovering that it discriminated against women.
Additional Takeaways from Draft
The SEP noted that the EEOC continues to be understaffed and underfunded relative to the number of charges it receives each year. To address this shortfall, the agency will prioritize claims that have a high likelihood of resulting in a reasonable cause determination.
Some areas of focus include:
Pregnancy discrimination.
Pay inequity.
Recruitment and hiring malpractice.
Discrimination related to current events.
Vulnerable populations, including LGBTQ and low-wage workers.
Industries that lack diversity, such as construction and technology.
Vaccine accommodations, medical inquiries and pandemic-related stereotyping.
The agency will continue to take on a relatively active role in carrying out its mission, including with stepped-up investigations and lawsuits, the report noted.
"The EEOC stated that they will be looking at broad patterns of discrimination—something they've focused on for a while but haven't scrutinized as much until recently," said Stephen Paskoff, CEO of training company Employment Learning Innovations in Atlanta. "Given the broad array of issues for protected classes … it's clear the EEOC is taking an ambitious approach and looking for big claims."
Paskoff, a former EEOC litigator, noted that employers should make sure their practices remain consistent to avoid discrimination lawsuits. The best way to do this is to mandate clear, consistent standards of behavior.
"If you look at issues as strictly legal and only focus on checking off boxes for the sake of compliance, you might miss the bigger picture, which is to get people to focus on the importance of behavioral standards and adhering to company values," he said. "This will allow you to prevent, detect and fix issues before they arise and avoid risk more easily."
Getting employees to understand their company's standards of behavior is key, Paskoff added.
"Get people to see that adhering to consistent standards is how we will operate better in challenging times," he explained. "To do this the right way, don't frame this as just the EEOC paying attention; the way you behave is going to help [companies] operate efficiently with the best talent."
Public comments on the SEP draft must be received by Feb. 9, 2023.
To see the original article, click here.