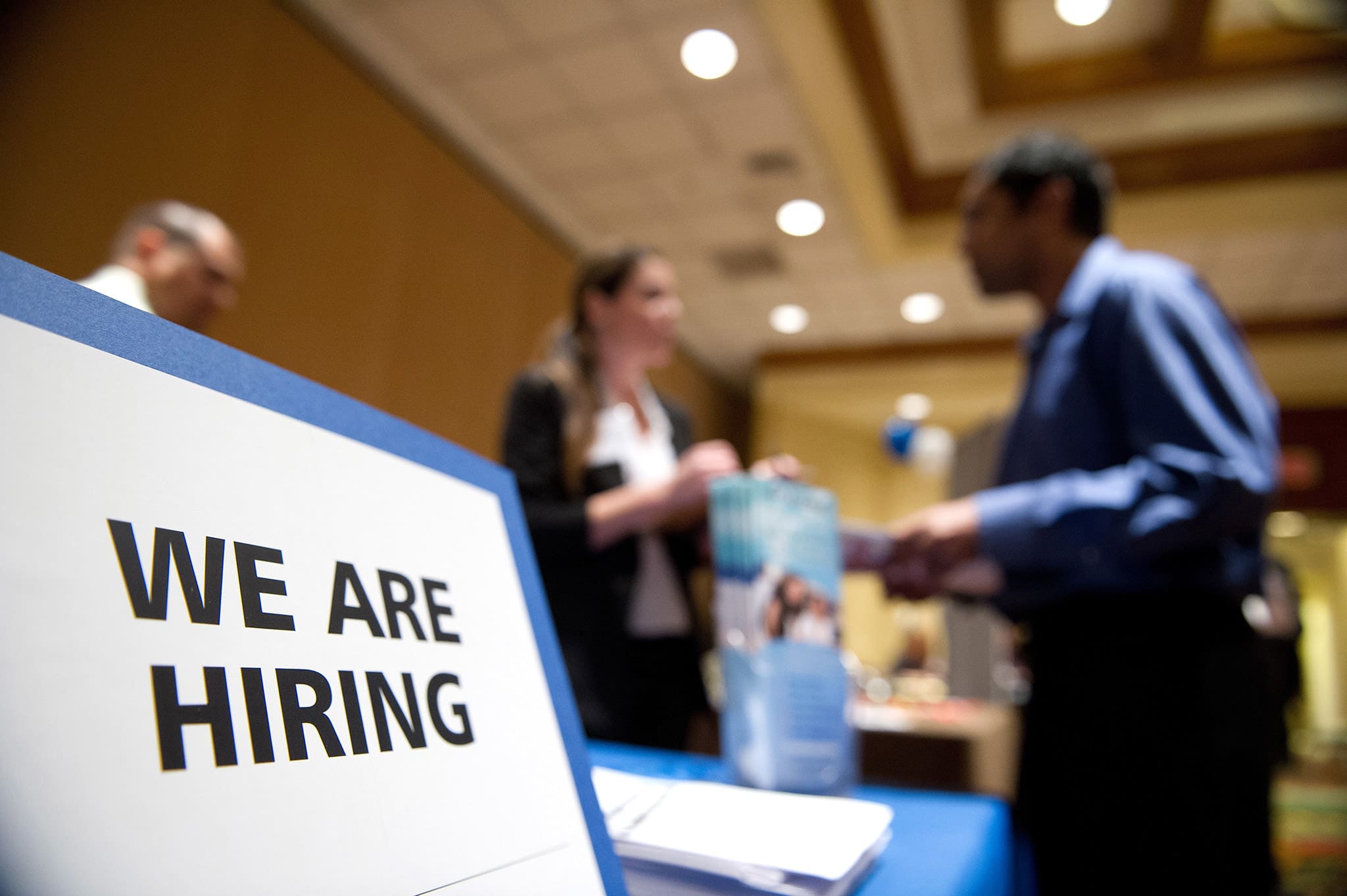 Unemployment rate holds, wage growth slows.
By Roy Maurer | October 6, 2023
U.S. employers added a banner 336,000 new jobs in September, well above expectations and in the face of high interest rates and elevated inflation, according to the latest employment report from the U.S. Bureau of Labor Statistics. Payroll gains were the highest since January.
Hiring this summer had seemed to be in a slowdown phase, but revisions reveal that job growth was stronger than previously thought. August's job total was revised up 40,000 to 227,000 new jobs, while July went from 157,000 to 236,000 new jobs.
"Today's surprise blockbuster number proves once again the resilience of the American labor market," said Becky Frankiewicz, president and chief commercial officer of ManpowerGroup. "This labor market is driven by the confidence of the American consumer, who values eating out and spending time with family and friends."
Geno Cutolo, head of Adecco North America, said that the "September Surge" hiring phenomenon—in which peak hiring begins as many companies gear up for the holiday season—had a role in the outcome of the latest jobs figures. "As more parents that may have taken the summer off while their children were out of school seek new positions, and as many employers prep for an expected busy fourth quarter, we tend to see an increase in demand for more flexible roles, like retail and customer service," he said.
"It is hard to find any bad news in this report," said Julia Pollak, chief economist at ZipRecruiter. "It is true that full-time employment has ticked down in recent months, but it still remains well above the pre-pandemic level. And almost everyone expected that bringing down inflation would require painful job losses. This report suggests we were all wrong."
The unemployment rate remained at 3.8 percent. For much of the past 18 months, unemployment has drifted between 3.4 percent and 3.7 percent, a historically low range.
"The U.S. labor market clearly still has some gas in the tank," said Nick Bunker, head of Economic Research at the Indeed Hiring Lab. "In fact, over the past three months, it's been cruising at a pace more than twice the rate needed to keep up with population growth."
Bunker added that although the robust hiring numbers are "reminiscent of the immediate post-pandemic boom days…today's strength feels much more sustainable. The frenetic days of the past few years are behind us and the path toward a more-balanced market is widening."
Continued employment strength however, may raise expectations that the Federal Reserve will increase interest rates further.
"The report provides Fed policymakers with more evidence that the labor market remains strong in the face of restrictive monetary policy," said Terry Sheehan, an economic analyst at Econoday, a data and analysis firm in Lafayette, Calif. "Even if no more rate hikes were in the works, monetary policy can remain restrictive for some time yet."
Daniel Zhao, Glassdoor lead economist, noted that the economy is one month closer to exiting 2023 without a recession. "If wage growth decelerates smoothly into its pre-pandemic range, that will be the last remaining indicator to get the labor market in position for a soft landing," he said. "There are still risks looming on the horizon like a postponed government shutdown deadline and the UAW strike, but for now, the labor market remains resilient ahead of those risks."
Even with 1.5 job openings for every unemployed job seeker, staffing firms continue to report skills shortages across several sectors, said Richard Wahlquist, chief executive officer at the American Staffing Association. "The government should be focused on growing the economy—not raising interest rates—and ensuring that the American labor force has access to the training needed to fill the most in-demand jobs in the market today and in the future," he said.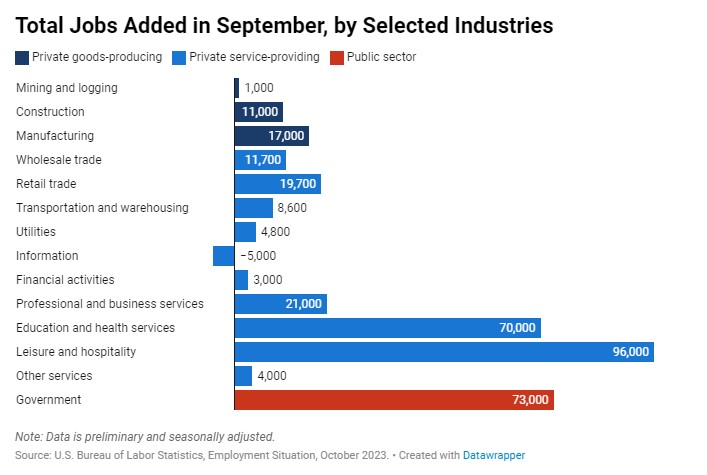 Industry Breakdown
Service-related industries contributed 234,000 to the total job growth in September, while goods-producing industries added just 29,000.
Hiring is certainly happening, but it seems to be concentrated in a few sectors, Sheehan said. "Much of the September private-service sector payroll increase was due to a rise of 96,000 in leisure and hospitality which accounted for over 40 percent of jobs added," she said.
Andrew Flowers, lead labor economist at Appcast, pointed out that just about every industry has recovered its COVID-era job losses. "With the latest job gains, food service and government have eclipsed February 2020 levels," he said. "Only accommodation jobs are still short by about 10 percent."
Leisure and hospitality had a spectacular month, with restaurants and bars gaining 61,000 new jobs and hotels and motels adding 16,000 new jobs. "Consumers are spending more on experiences this year—traveling, concerts, dining out all remain on the table even as inflation continues to plague their wallets," Flowers said.
Other sectors that reported significant payroll gains included government (73,000), health care (41,000) and professional services (29,000).
"The economy continues to add jobs, even in highly interest rate-sensitive industries, such as manufacturing (17,000) and construction (11,000)," Pollak said.
"Our data shows holiday hiring is warming up and while the functions with the highest demand continue to be medical and sales, we're seeing a shift to new holiday hiring heavyweights in operations and logistics," Frankiewicz said. "Amazon is the number one employer in the U.S. today and other top employers include companies in health and wellness, allowing us to redefine what holiday hiring means for the modern consumer—one who prioritizes both brick and click, and looks for products that suit their budget and prioritize their health."
Flowers said that the impacts of recent strikes were hard to quantify. "Motion picture and sound recording jobs were down again last month, impacted by the recently resolved writers' strike and the ongoing screen actors' strike," he said.
Motion picture and sound recording jobs fell by 5,000 and are down 45,000 since May.
"Other large strikes that started later in the month have yet to make an impact on the labor market," Flowers said. "The United Auto Workers strike that started last month, for example, has yet to impact motor vehicle production employment, though that might change in October's report depending how long the strike lasts."
Unemployment Holds
The unemployment rate was unchanged in September, bringing the streak of unemployment below 4 percent to 22 months. While the unemployment rate is up from its recent low in April of 3.4 percent, it remains low by historical standards, Zhao said.
"With the unemployment rate remaining steady, we are optimistic heading into October, where we expect to see continued momentum for peak holiday hiring season across industries including retail, supply chain and logistics and more," Cutolo said.
Flowers said that both the prime-age labor force participation rate and the employment population ratio held from the previous month and the prime-age labor force is still at a near twenty-year high.
Sheehan pointed out that the more comprehensive U-6 unemployment rate was down a tenth to 7 percent in September. "Those working part-time for economic reasons were down 156,000 to 4 million, an indication that at least some workers are finding full-time employment," she said.
She added that job losses were down, reflecting the low levels of layoff activity, and quitting was essentially the same, a sign of less churn in the labor market.
"Female prime-age labor force participation dipped to 77.4 percent from 77.6 percent," Zhao said. "As federal childcare funding diminishes, labor force participation for parents, and particularly mothers, should be watched closely in coming months as a drag on an otherwise strong year for labor force participation," he said.
The job gains every month are large enough to pull more workers into the labor force, Bunker said. "Continued strong demand should entice more people into finding a job. The high job-finding rate among unemployed workers points toward increased participation in the future as well."
Wages Cool
Wage increases were softer than expected, with average hourly earnings up 0.2 percent for the month and 4.2 percent from a year ago.
Cooling wage growth "should continue to assuage the Fed's fears of inflation picking back up after a period of cooling, the likes we saw in the summer of 2022," Flowers said.
Bunker added that the continued slowdown in wage growth is the key trend in the report. "If job gains continued to be so strong without wages slowing, that would be a problem for the Federal Reserve," he said. "But the deceleration of wages, even as demand for workers stays high, points toward a reserve of labor supply willing to be tapped."
To view the original article posting, click here.