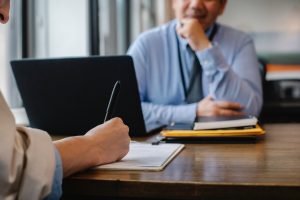 By Theresa Agovino | March 15, 2023
After an annual review that lasted about 10 minutes, a New Jersey-based account coordinator knew it was time to leave the public relations agency where he had worked for almost a year.
The 25-year-old, who requested anonymity, asked for the meeting because his boss had not mentioned any formal assessment process, nor had his manager ever critiqued his work. The coordinator says he sat with a trio of senior executives who did not ask him any questions beyond how he would rate himself. He says they ignored his requests for guidance on how to advance at the agency.
"What I was really looking for was feedback from them on how I can improve, how I can establish myself at that agency," he says. "At the end of it, there was no mention of next steps. I was very much in the dark." That story serves as an all-too-typical example of the problems with performance reviews. Now more than ever, employees want to know where they stand and how to further their careers, but most organizations do not effectively deliver that information.
This example also illustrates one of the common failures in performance management: limiting reviews to once or twice a year without having any other meaningful career discussions in between. Nearly half (49 percent) of companies give annual or semiannual reviews, according to a study of 1,000 full-time U.S. employees released late last year by software company Workhuman.
The only situation that is worse than doing one review per year is doing none at all, experts say. The good news is that only 7 percent of companies are keeping employees in the dark about their performance, and 28 percent of organizations are conducting assessments quarterly, the Workhuman study found.
A Pervasive Problem
Reviews generally do not work.
That doesn't mean that more-frequent formal meetings or casual sit-downs between supervisors and their direct reports are solving the performance review quandary, either. Only about 1 in 4 companies in North America (26 percent) said their performance management systems were effective, according to a survey of 837 companies conducted last fall by consulting firm WTW. And only one-third of the organizations said employees felt their efforts were evaluated fairly.
Meanwhile, a Gallup survey conducted last year found that 95 percent of managers are dissatisfied with their organization's review system.
The problem is not new, though it is taking on greater importance, experts say. Millennials and members of Generation Z crave feedback and are focused on career development. Meanwhile, the tight labor market has companies searching for ways to keep high-performing employees in the fold. Fewer than 20 percent of employees feel inspired by their reviews, and disengaged employees cost U.S. companies a collective $1.6 trillion a year, according to Gallup.
Lesli Jennings, a senior director at WTW, says part of the issue is that reviews are now so much more than a discussion of past performance. They include conversations about career development, employee experience and compensation.
"The performance management design itself is not evolving as quickly as the objectives and the purpose that we have set out for what we want it to do," Jennings says.
Poor Review Practices
Some argue that means it's time to completely scrap annual reviews and stop using scales composed of numbers or adjectives to rate employees.
"Every single human alive today is a horribly unreliable rater of other human beings," says Marcus Buckingham, head of people and performance research at the Roseland, N.J.-based ADP Research Institute. He says people bring their own backgrounds and personalities to bear in the reviews in what is called the "idiosyncratic rating effect." He says the ratings managers bestow on others are more a reflection of themselves than of those they're reviewing.
Buckingham adds that very few positions have quantifiable outcomes that can be considered a measure of competence, talent or success. It's possible to tally a salesperson's results or test someone's knowledge of a computer program, he says, but he's baffled by attempts to measure attributes such as "leadership potential."
"I'm going to rate you on a theoretical construct like 'strategic thinking'? Everybody knows that's rubbish," Buckingham says. He adds that performance reviews that offer rankings give "data that's just bad" and insists that companies rely on data analytics because they don't trust their managers' judgment. But instead of working on improving their managers' skills, he says, they put data systems in place.
"Because we don't educate our managers on how to have some of these conversations, we've decided that the solution is to give them really bad ratings systems or really bad categorization systems," Buckingham says.
Data Lovers
Ratings aren't likely to disappear anytime soon, however. "Data-driven" has become a rallying cry for companies as they seek to operate more efficiently. Organizations are trying to measure everything from sales to productivity, though such efforts can cause turmoil and hurt some individuals' careers.
A June 2022 study of nearly 30,000 workers at an unnamed North American retail chain found that women were more likely to receive higher overall ratings than men, though women were ranked lower on "potential."
In that study, women were 12 percent more likely to be given the lowest rating for potential, as well as 15 percent and 28 percent less likely to receive the middle and highest potential ratings, respectively, according to the professors who conducted the study, Alan Benson of the University of Minnesota, Danielle Li of MIT and Kelly Shue of Yale. The authors also said women were 14 percent less likely to get promoted than men. "Because potential is not directly observed," they noted, "these assessments can be highly subjective, leaving room for bias."
Meanwhile, in January, a manager at Irvine, Calif.- based video game developer Blizzard Entertainment balked after being told to lower an employee's rating to fulfill a quota. Blizzard has a "stack ranking" system that rates employees on a bell curve and requires a certain percentage of staff to receive low grades. The manager, Brian Birmingham, refused to downgrade an employee from "successful" to "developing" to satisfy the system and told colleagues he was resigning if the policy wasn't changed.
Birmingham left abruptly one afternoon and did not go in to work the next day, which he says Blizzard interpreted as his resignation. Blizzard did not respond to requests for comment.
Stack ranking became popular in the 1980s after it was embraced by General Electric. Its adoption has waned, though several tech companies continue to use it. Google and Twitter relied on stack ranking to decide who to let go in their recent rounds of layoffs, according to published reports.
Birmingham says that the system can cause anxiety and competition, which can kill team cohesion, and that arbitrary lower ratings adversely affect compensation and promotion potential. These systems can also suggest that a manager is ineffective, he says. "It implies that as managers, we basically have not done our job to hire them and train them appropriately or terminate them if they really aren't working out."
Birmingham says he is not opposed to ranking systems but doesn't think they're necessary. "I feel like the conversation about how to improve your career, what the expectations are for your job and what it will take to get to the next level are all things you can do without a rating," he says.
Measurements Matter
Grant Pruitt, president and co-founder of Whitebox Real Estate, does not give any type of rating in his performance reviews, though he believes in using data to track his employees' performance. "What isn't measured can't be managed," says Pruitt, whose company has about 20 employees in several offices across Texas.
At the beginning of the year, Whitebox employees set goals with their managers. Discussions are held about what benchmarks are reasonable, and these targets can be changed if there is a meaningful shift in business conditions. Team leaders hold weekly department meetings with their direct reports to discuss what's happening and track progress. Managers hold quarterly private reviews with individuals to dig deeper into whether they're meeting their goals and if not, why.
"Was it an achievable goal? Realistic? If it was, then what do we need to do to make sure we don't miss it the next time?" Pruitt says. Whitebox switched to quarterly reviews about four years ago to address problems earlier and avoid having issues fester, Pruitt adds.
It's easier to set goals for people in sales than for those in other departments, Pruitt concedes. However, he adds that executives need to brainstorm about targets they can use for other roles. For example, administrative employees can be rated on how quickly and efficiently they handle requests.
Pruitt maintains that the goal system makes it easier to respond when an employee disagrees with their manager about their performance review because there are quantitative measures to examine. The data also helps eliminate any unconscious bias a manager may have and helps ensure that a leader isn't just giving an employee a good rating because they work out at the same gym or their children go to school together.
"I think that's really where the numbers and the data are important," Pruitt says. "The data doesn't know whose kids play on the same sports team."
Whitebox employees are also judged on how well they embrace the company's core values, such as integrity, tenacity and coachability. Some of those values may require more-subjective judgments that can be more important than hitting quantifiable goals.
Pruitt admits that there were occasions when he looked the other way with a few individuals who were "hitting it out of the park," even though he believed they lacked integrity. But eventually, he had to let them go and the company lost money.
"They really came back to bite me," Pruitt says.
Grades Are Good
Diane Dooley, CHRO of Iselin, N.J.-based World Insurance Associates LLC, also believes establishing quantitative methods to gauge employees' performance is essential. "We are living in a world of data analytics," she says. The broker's roughly 2,000 employees are rated on a scale of 1 to 5.
World Insurance has taken numerous steps to remove bias from reviews. For example, last year the company conducted unconscious-bias training to help managers separate personal feelings from performance reviews. And all people managers convene to go over the reviews they've conducted. Dooley says that process gives everyone a chance to discuss why an employee was given a certain rank and to question some decisions. "We want to make sure we're using the same standards," she explains.
Currently, World Insurance conducts reviews only once a year because it has been on an acquisition binge and there hasn't been time to institute a more frequent schedule. That will change eventually, says Dooley, who adds that she wants to introduce department grids that show how an employee's rank compares to others' on the team.
"It's just a tool that helps the department or the division understand where their people are and how we can help them collectively," says Dooley, who has used the system at other companies.
Dooley says she isn't worried about World Insurance holding reviews only annually, because good managers regularly check in with their employees regardless of how frequently reviews are mandated.
Such conversations can easily fall through the cracks, however. "Managers want to manage the employees, but they get so caught up in the company's KPIs [key performance indicators] and making sure that they're doing everything that they need to do," says Jennifer Currence, SHRM-SCP, CEO of WithIn Leadership, a leadership development and coaching firm in Tampa, Fla. "It's hard to set aside the time."
WTW's Jennings adds that managers sometimes avoid initiating conversations with employees who are not performing well. Such discussions are often difficult, and managers may not feel equipped to conduct them.
"Having to address underperformers is hard work," Jennings says.
Additionally, experts say, coaching managers to engage in such sensitive discourse can be expensive and time-consuming.
Increase Conversations
Finding the right formula for performance reviews is tricky. The company's size, values, industry and age all play a role. Currence says businesses need to think about the frequency and purpose of these meetings. Some managers may have weekly discussions with their direct reports, but the conversations might center on status updates as opposed to performance.
"We need to have more regular conversations," Currence says. "There has to be a happy balance."
San Jose, Calif.-based software maker Adobe Inc. was a pioneer when it eliminated annual reviews in 2012 after employees said assessments that look backward weren't useful and managers lamented how time-consuming they were. Instead, Adobe introduced quarterly check-ins and did away with its numerical ratings system, even though the company is "data-driven," according to Arden Madsen, senior director of talent management.
"We focus on employees and managers having a rich, two-way feedback conversation," Madsen says. "Often in traditional performance management systems, there's too much focus on the number."
Adobe's system has changed over the years as the company grew from about 11,000 employees in 2012 to around 28,000 today. In the beginning, employees were not asked a universal set of questions and the information gathered was not stored in a central place accessible to all. In 2020, Adobe instituted three or four questions that must be asked at each quarterly meeting, one of which is whether the employee has feedback for the manager. Other topics covered depend on the employee, their role and their goals.
Madsen says asking consistent questions and making reviews easily accessible are important, as internal mobility within the company has grown.
Adobe, like many businesses, separates conversations about performance from discussions about raises and bonuses, even though they're intertwined.
"Money is so emotionally charged," says WithIn Leadership's Currence. "When we tie performance review conversations with money, we as human beings do not hear anything about performance. We only focus on the money."
Theresa Agovino is the workplace editor for SHRM.
To view the original article, click here.